WP Coupons was developed for affiliate marketers, bloggers, and ecommerce shops. It helps you more easily advertise your deals, coupons, and discount codes. Being affiliate marketers ourselves, we are continuously adding new features to ensure you convert more visitors!
Demos
Check out the six different demos of the WP Coupons plugin in action to see how you can use it on your site.
Archive demo
Singe post demos
Widget demo
Shortcode demos
Tons of display options
There are numerous display settings you can choose from on how you want coupons to appear on your site. There is no admin menu clutter, and we take advantage of native WordPress styling, so you don't have to learn a new UI.
Archive templates
Built-in templates for your coupon archives and single coupons. You can also use a shortcode [wp_coupons] to print out your coupons.
Archive URL
Change your archive and coupon URLs to whatever you want. It defaults to coupons, but you can use deals, discounts, it's up to you.
Navigation
Change the navigation title and choose from 3 different styles: Horizontal (default), vertical, and a dropdown. You can also enable a subnav with your tags.
Layout
Includes 7 different archive templates to choose from: 2 columns, 3 columns (default), 4 columns, 5 columns, list view, list compact view, and list minimal view.
Choose between different sort orders: Date (default), last modified, title, and random.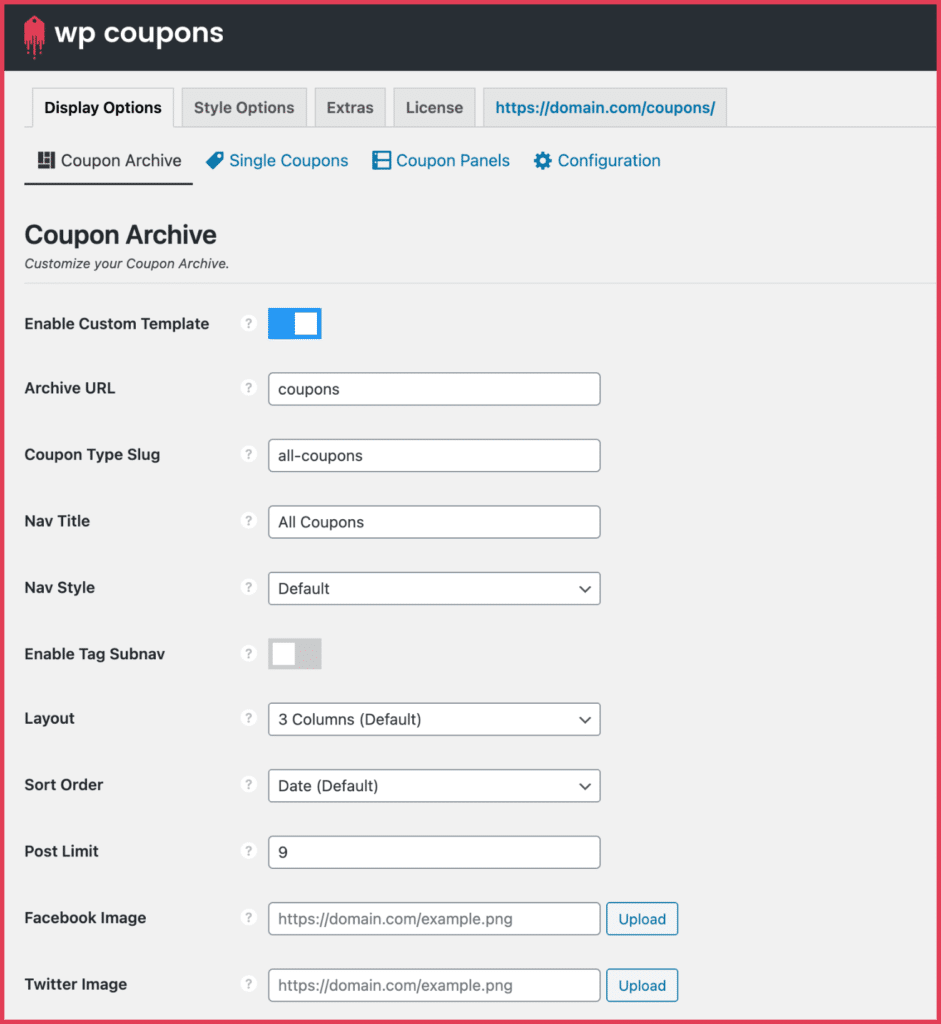 Many more settings…
Grab a coffee and check out all the other display options you can choose from:
WP Coupons is used by thousands of bloggers and affiliate marketers around the globe. Ready to start converting more? Get started today!
Quick style options
Under the style options you can change the colors and font sizes for everything the plugin outputs.
Change colors on the following:
Coupons, discounts, and code backgrounds.
Discount code and expiration date text.
CTR folded corner and separator.
Link and hover accents.
Coupon type text.
Change font sizes on the following:
Titles and buttons.
Descriptions and types.
CTAs and expiration dates.
Discounts, codes, nav, and subnav.
Widget
There is a built-in coupon widget that you can use to display on your blog's sidebar. You can even make your coupon widget scroll as users read down your posts.
By default the coupon will randomly rotate on your sidebar between all the coupons you have published. However, you can manually set a coupon per post to show up on your sidebar. This is great for increasing your conversions and CTR as the coupon can be more relevant to the content of your post.
Option to force global coupon widget.
Option to force homepage coupon widget.
Option to show or hide "Powered by WP Coupons" attribution below the widget. Hook up to our affiliate program to earn a little extra cash.
Click to reveal
WP Coupons has a click to reveal feature that works just like the popular RetailMeNot coupon site.
If enabled, discount codes will be hidden by default and require the user to click to reveal a popup with the discount code, coupon info, and a link to the deal.
You change the click to reveal text. There is also two different click to reveal behaviors: New tab + popup or popup only.
GDPR-friendly
Unlike some other coupon plugins, WP Coupons is GDPR-friendly, with no additional configuration needed. Our plugin doesn't use trackers, place cookies, or collect personally identifiable information (PII) data of any kind.
Extras
The extras section of the plugin lets you change the way certain areas of the plugin.
Force direct links. Globally force your coupon button links to go directly to the corresponding discount URL if one is set instead of going to the single coupon post. This helps decrease clicks and increases conversion rates.
Force nofollow links.
Choose between two options for the direct link target: New tab _blank (default) or current tab _self.
Enable clipboard.js to display

display a copy button

on your coupon codes.
Exclude coupons for default WordPress search.
Enable comments on coupons.
Custom CSS box along with the ability to add template container class.
Before and after archive content boxes. Add anything you want above or below your coupons.
Coupon management roles to let you choose who can access your coupon posts.
Lightweight and scalable
Web performance is very important to us. By default, the plugin doesn't use any JavaScript on the front-end and is only 5 KB! There is also no jQuery dependency. In other words, our plugin loads really fast and is incredibly lightweight.
The WP Coupons plugin is fully responsive and scales great on desktops, tablets, and mobile phones.
Support and ongoing development
We use third-party plugins just like the rest of you, and there is nothing worse than subpar support. That is why we will never outsource this. With WP Coupons, you get help directly from the developers of the plugin. We have over 19 years of experience working with WordPress on a daily basis.
Developing plugins isn't just a side hobby for us; it's what we do full-time. We are continuously releasing new features and fixing bugs. Our plugins are always tested with the latest versions of WordPress.
We also believe having good documentation saves everyone time. That's why we have 40+ step by step docs on how to use and best configure WP Coupons.
Your feedback is very important to us so that we can make improvements. If you have an idea or suggestion, we would love to hear it! Make sure to check out our current feature requests and the changelog for WP Coupons.
Have coupons or discount codes? WP coupons can help take advertising these to the next level. If you have any questions just drop us a message. We are always happy to help.